The System - I got my first weather station in April 2007 and since then there have been many changes. In September 2008 I upgraded to a Davis Vantage Pro 2 Wireless system model 6152UK purchased from Skyview UK because the Oregon Scientific Professional Weather Station model WMR 100 (now discontinued) proved so unreliable. More on my original setup. My first impressions of the Davis VP2 is that is much better piece of equipment and it should be at four times the cost. All the parameters are measured to a better resolution, rain fall in 0.2mm, wind direction in degree step. The Davis VP2 6152UK consists of three main parts, the console, the anemometer and the Integrated Sensor Suite (ISS) consisting of the rain gauge, temperature, humidity and wireless transmitter. The ISS is connected to the anemometer by a cable and there are extra connections for an optional UV sensor and a solar radiation sensor. Other sensors can also be added include soil temperature and soil moisture. The Davis Vantage Pro 2 has proved to be very reliable and the only maintenance has been some periodic cleaning, battery replacements and the occasional unblocking of the rain gauge.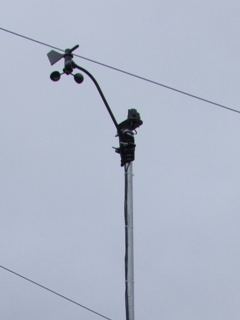 Anemometer and Wind Direction - I have mounted this on a 33.7mm (1.33in) diameter steel tube. The steel tube is clamped to the end of my garage and fitted into a socket on the ground. This positions the anemometer at a height of 5.5 metres (18 ft), ideally the anemometer should be mounted higher but would be difficult in my location. The anemometer is connected to the ISS via 12 metre (40ft) cable with a RJ11 style plug and socket connection, the surplus cable is coiled up and attached securely. The anemometer has a operating range of 2 mph to 150 mph but with the optional small cups can have a range 3 mph to 175 mph. both with a resolution of 1 mph. Wind speed can be measured in mph, knots, metres/seconds or km/hr. The wind direction operates over a full 360 deg with a 1 deg resolution. The anemometer is supplied with a stainless steel an "U" bolt to mount a mast and lag screws to mount to a wooden post.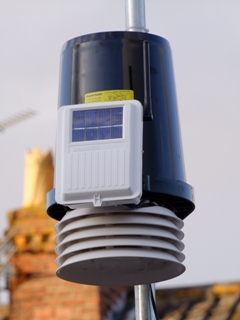 Integrated Sensor Suite (ISS) - This is heart of the outside equipment and contains the rain gauge, temperature, humidity sensors and provides connections for wind speed / direction and solar radiation sensor . The unit also contains the electronics that transmitters the weather data to the Console. It is powered by a solar panel which charges a super capacitor to keep the unit power overnight. There is also a small lithium battery to power the unit during days where is insufficient sunlight to fully charge the super capacitor. To make my accessible it is mounted just above the garage roof but this puts the unit in the shade of the house during the winter months.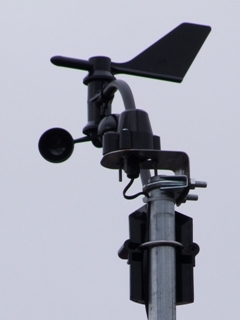 Solar Radiation Sensor - This is normally mounted on a bracket fitted to the ISS but my garden is north facing and in the winter is completely shaded. I thought it would be better to mount the solar higher so it was in the sun light for the longer part of the day. I made a metal bracket drilled to suit the fittings of the solar sensor and clamped the top of the pole using a "U" bolt. I purchased a Davis extension cable and coupler unit. This is a great improvement but there still some shading of the sensor in the winter mornings and evenings.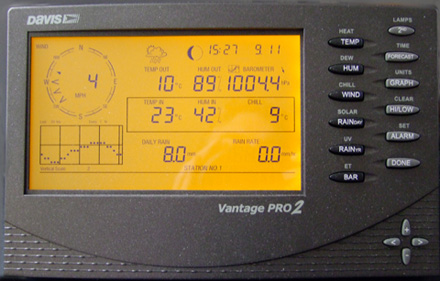 Davis Vantage Pro 2 Console - This is powered by a 3 "C" cells and should last up to 9 months. It is also supplied with mains transformer. The front of the console is in two parts, a 150mm X 85mm LCD screen with backlight and series of buttons to select functions
Software - Virtual Weather Station - Internet Edition and in April 2009 in started using Weather Display to produce some of the web site content. In November 2013 I have installed Cumulus and intent to use some of the features to add to the site.

Weather Computer - Initially I used my main computer to run the software but this used too much electric and was too noisy for continuous use. I purchased a HP DC7900 SFF computer with a Intel E8500 CPU, 4GByte DDR2 RAM and a 500GByte HDD. The DC7900 runs nearly silently and is economical on electricity. Over the years the computer has been replaced a few time due to breakdowns. The computer power supply is backed up with an uninterruptible power supply (UPS) which will power the computer for up to 20 minutes of loss of supply. It will also shut the computer down safely if the power outage is longer than 20 minutes. My weather computer sits on my network which is connected to my home computers and a Windows Home Server 2011 which backs up the computers every night. This has been very useful as I have had a couple of computer failures which due to the Home Server I was able to recover from.
PHP Scripts - Over the years I have started to make use of PHP scripts within the web site. Some of the these scripts I have made available for others to use on their sites, these include:-.
Weather dependent banner PHP script - Display different page header images depending on the time of day and sunshine levels. Requires solar radiation sensor and Weather Display
Regional Weather PHP Script - Displays a table of weather data from other sites. Works with sites using Weather Display
Daytime/Nightime PHP script - Changes a Y-cam White S IP camera from daylight to nightime modes depending on light level from a Davis solar radiation sensor and files created by Weather Display
PHP script to display a selected months "All Time Records" from Weather Display
Never base important decisions on this or any weather information obtained from the Internet.
Last modified: March 04 2021 22:01:41.